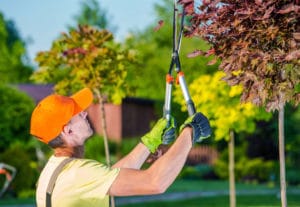 The process of selecting a capable tree service in the Greater Atlanta Area might appear simple. Yet Whitwell Landscaping believes the quality of tree removal services today covers a broad spectrum indeed. Well-informed customers usually make the best hiring decisions. Do you know these important tree care firm selection secrets? They could help you enjoy carefree landscaping services in Georgia:
Make Wise Decisions
During the selection process, you need to remain cognizant of the risks inherent in tree care. While everyone desires to avoid accidents, when people work at heights, a significant potential exists for mishaps to occur. A reputable tree care service should furnish proof of insurance to prospective customers. Verify with insurers that the firm carries both liability insurance and workman's compensation insurance.(1) Additionally, the firm should also document in writing its willingness to accept responsibility for any injuries or property damage resulting from its activities. (2)
In this connection, you'll want to ensure you choose a firm that complies fully with OSHA (Occupational Safety and Health Administration) regulations.(3) The tree care company should provide its employees with recommended safety equipment and protective attire. If you select a tree service for a specific project, such as the removal of an aged tree, request a specific, detailed step-by-step proposal specific to your premises and a written price estimate.(2)
Insist Upon Best Practices
You maintain a vested interest in ensuring your tree care service handles your trees in the best way to promote their long-term health and stability. Two widespread practices in the industry today potentially damage trees. Ask the company you hire to do everything possible to avoid these practices: climbing with tree spikes and "topping".
Tree Spikes: A tree care worker sometimes climbs a tree by inserting temporary metal spikes into the trunk. This practice leaves visible damage. It may permit insect infestations or infections to harm the plant later. Don't permit tree spike use unless you've scheduled the tree for removal.(4)
Topping: This practice involves chopping off the tops of trees, rather than carefully pruning the branches. Unless absolutely necessary, prohibit topping. It may ultimately damage tree balance, and cause trees to topple over more readily during storms.(5)
Caveat Emptor
Select landscape services carefully. You'll gain important benefits by choosing a dependable, professional firm!
Useful Resources:
https://hardin.ca.uky.edu/content/topping-trees-bad-practice
Suwanee Tree Services, Johns Creek Tree Removal Service, Cumming Landscaping Service