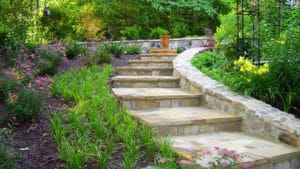 A low-water garden is great for places that don't get enough precipitation or water-conscious communities. Low-water gardens don't have to look dull and lifeless, they can accentuate the natural landscape in the area you live.
Plants and Trees for Low Water Landscaping Ideas
Whether you use landscape services or plan your landscaping yourself, plants and trees are a big part of the process. Plants that are native to your area are easier to care for and add to the beauty of the extended landscape.
If you live in a desert climate, grasses, trees, and plants that complement the desert and supply a soothing atmosphere to relax are ideal. Succulent plants are low water and provide color that helps a garden look fresh and bright. Grasses that are low water can provide ground cover for areas that rarely get walked on.
Trees are good for shade in the hot summers. A backyard area should have a few trees for shade and respite. Trees also supply shade and cooler ground for the other plants. Trees do need water, so it is important to conserve water where you can and use it on your trees in hot weather.
Conserving Water (Low-Water Garden)
You can gather water from rain, the condensation from your air conditioner and reuse water from your home. Drip irrigation is another way to save water and keep the roots of plants hydrated.
Driveways and Spaces to Entertain
Gravel and permeable pavers allow water to seep into the soil. Plastic linings won't allow the water to flow into the ground. Use gravel to make spaces for guests and relaxation.
Mulch
Compost and mulch help keep soil from drying out. Creating a compost pile is also good for the environment and controls waste. Mulching in areas where you plant will help the soil and plants retain water.
Create Unique Climates
Sections of your yard can do different things. Outdoor showers are great for reusing water if you don't use harsh chemicals. You can use walls and other structures to shade your garden and areas for entertainment. White works well in a harsh summer climate and draws the eye to notice the different areas for entertaining.