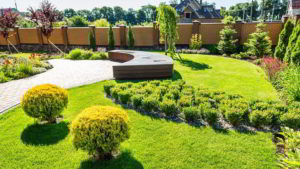 Getting outside and around nature is good for people of all ages. Gardening has many health benefits for seniors, children, and individuals with disabilities or learning differences. One of the best ways to structure a therapeutic garden is to think of what feels good to the senses.
Get a Little Help
You may want to have someone help with the initial landscape design and installation, so you can focus more of your time on the plants and shrubbery that are necessary for a relaxing environment. Seek help from Suwanee Landscape Design.
Create a Space to Work
A garden is soothing to be in, but the best benefits come from doing what it takes to make the garden grow! Consider sections and spaces for consistent work. You may have a table for planting in pots or raised beds like in a community garden. If you have guests that want to enjoy your therapeutic garden, offering a spot for them to work or plant is a great way to share your garden.
Consider Lower Spaces
If you have small children visiting your garden, or it needs to be accessible, install some lowered beds and sections of the garden to accommodate everyone. Plant some lower areas with herbs and flowers that stimulate the senses and increase moods.
Create a Space for Special Containers
You may decide that all the garden's visitors get a special container or pot to decorate and fill full of plants they enjoy. They can come back and visit the garden or take the containers home. If they plant edibles, they can come harvest the plants when they are ready. Giving someone space to grow something in your garden helps them feel like they are contributing to a space that is sacred.
The Outcome
A therapeutic garden is helpful in healing because it elevates mood. Gardening is helpful for people with depression, anxiety, memory loss, trouble with concentration, and social anxiety. These are just a few of the health issues that are bettered with the outdoors and gardening. When the summer is over, consider having a small area in your home or a greenhouse so you can keep the healing powers of plants year-round.
Check out Atlanta Landscape Design Gallery