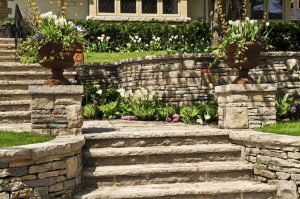 Many times, spending time in nature is not a daily habit for people who love the outdoors. With life obligations, getting into the outdoors is usually an activity for days people don't work. Integrating the things you love about the outdoors or your favorite outdoor activity through backyard landscaping ideas can bring something you are passionate about into your daily.
Backyard Camping
If you love camping under the stars, it is easy to turn your backyard into a quiet oasis after a long day's work. Sitting by a campfire and watching your family gather to eat dinner in the backyard can be a great way to feel connected to nature while you are at home. Backyard ideas for those who love to camp include firepits, a shed with lounging areas, a teepee, tents for children, hammocks, and lush greenery. If you plan to hire someone to do your landscape design and installation, have a conversation with them about the parts of camping that you love. Maybe you want a certain section of your yard to be the focal point, or you can create an area with bigger trees and shrubs to give the feeling of a more natural environment.
Adventure Enthusiasts
Part of climbing rocks and taking adventurous nature hikes is being physically fit. There are ways to incorporate physical challenges into your backyard and still have a nice place to relax. A climbing wall, tree house, ropes course, and other areas for fitness activities are great way to stay out of the gym and still remain active at home. A nice patio or bricked area with shrubs and flowering plants can help create areas for relaxation, fitness, and fun!
An adventure yard works great with a large fenced-in area that has the space needed to make the environment feel natural. If you have large trees and a big space, this is the ideal environment to transform your yard into a playground for adults and children!
Incorporating your love for the outdoors into your outdoor spaces is easy and working with someone who professionally designs landscapes can give you a personalized and unique area. Consider all of the things you love about the time you spend in the outdoors when you start planning your landscape and incorporate the plants and structures that help you feel in touch with nature.